A Level Results 2023 - How Unipol can help
17/08/2023
If you've now confirmed your place for September, Unipol is here to help with all your student accommodation needs! We're a non-profit organisation specialising in accommodation, accreditation and advice for students renting in Leeds, Nottingham and Bradford.
---
Accommodation
Use the search tool on the Unipol website to browse student flats and houses available from September in Leeds, Nottingham and Bradford.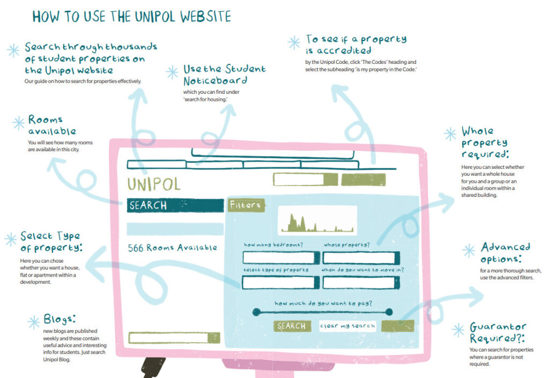 Unipol is also a landlord and we have our own portfolio of student properties. We house students on a not-for-profit basis, with no fees, hidden charges or guarantors required.
We have properties available in Leeds, Nottingham, and Bradford which are all safe, secure, well designed and managed. We have large purpose built student accommodation as well as houses in areas popular with students.
Search for accommodation managed directly by Unipol on the Unipol Housing website here:
---
Accreditation
Unipol run a set of accreditation schemes called the Codes which student accommodation providers can voluntarily join. By joining the Codes, accommodation providers agree to meet a set of standards relating to:
the physical condition of the accommodation
the management of the property
the relationship between landlord and tenants.
We always recommend renting a Code accredited property as it provides you with reassurance that Unipol can help if you have any problems with your property or landlord. You can look for Code accredited accommodation on our website using the link below. *Code properties are marked with a blue thumbs up!*
---
Advice
Unipol provide a free online and in-person advice service for all students in Leeds, Nottingham and Bradford. There is lots of advice available on our website, or you can drop in to one of our hubs where you can chat to us in person.
For more information about our advice service, click the link below: