The Unipol Board Room
The facility
Location
Rates and capacity
How to make a booking
Food allergy information
Your Safety
The facility
The Unipol Board Room is a compact and carefully designed modern event space, which is fully accessible and available for bookings.
This flexible space can be set up as a single space or divided into two individual areas to meet the requirements of various events, accommodating small meetings for six up to large events for 50 people. In addition we have a delegate reception area with comfortable seating and refreshment facilities.
The Board Room is finished to a high specification with AV equipment, teleconference facilities and wireless internet.
Whatever your event, the Board Room is a comfortable and professional space that can be adapted to meet your requirements.
Location
Unipol Student Homes
155-157 Woodhouse Lane
Leeds
LS2 3ED
Tel: 0113 205 3404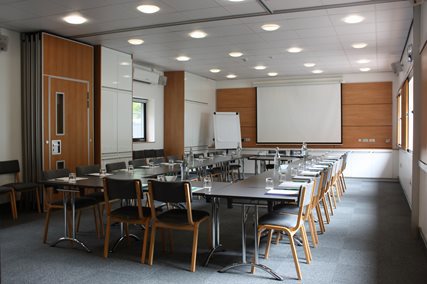 Rates and capacity
| | |
| --- | --- |
| Layout | Capacity |
| Boardroom | 32 |
| U Shape | 28 |
| Theatre | 50 |
| Classroom | 30 |
| | | | |
| --- | --- | --- | --- |
| Length of Meeting | External Rate | Partners Rate | Community Rate* |
| Full Day (9am - 5pm) | £400 | £200 | negotiable |
| Half Day (am or pm) | £200 | £100 | negotiable |
| Hourly Rate (min 2 hrs) | £50 | £25 | negotiable |
All prices are quoted excluding VAT and include AV equipment, flipchart and pens, and bottled water.
*Community groups can, in certain circumstances, use the Board Room for the cost of food, beverages and cleaning with a negotiable rate for room hire costs.
| | |
| --- | --- |
| Additional Items | Cost |
| Lunch (sandwiches / savouries & fruit bowl) | £10 |
| Tea / Coffee per serving | £2 |
| Tea / Coffee and biscuits per serving | £3 |
Alternatively you can organise your own lunch arrangements. Please note that you will need to organise your own delivery, crockery and cutlery, and for it to be cleared away after you have finished. Please confirm the details of the provider and delivery to Unipol in advance.
How to make a booking
To make your booking or enquiry please contact Unipol on 0113 2053404 or alternatively email: conferences@unipol.leeds.ac.uk
To view the Terms and Conditions for using the Boardroom please click here
Food allergy information
Unipol does not prepare any food itself on its premises and therefore cannot guarantee that all food supplied is totally free from one of the 14 allergens listed below.
Where delegates to events inform Unipol in advance that they have an allergy or dietary requirement we will seek to provide suitable food, however we cannot guarantee the total absence of allergens. Unipol will seek to ensure all food provided at Unipol Training events that may contain one of the main 14 allergens is labelled with this information.
The 14 allergens are:
celery
cereals containing gluten – including wheat (such as spelt and Khorasan), rye, barley and oats
crustaceans – such as prawns, crabs and lobsters
eggs
fish
lupin
milk
molluscs – such as mussels and oysters
mustard
tree nuts – including almonds, hazelnuts, walnuts, brazil nuts, cashews, pecans, pistachios and macadamia nut
peanuts
sesame seeds
soybeans
sulphur dioxide and sulphites (if they are at a concentration of more than ten parts per million)
To keep visitors to meetings and events in Unipol's Board Room safe, Unipol have put a number of measures in place which we would ask you to co-operate with:
Prior to attending the event
Please do not attend the event if you have Covid-19 symptoms; a high temperature, a new, continuous cough and/or a loss or change to your sense of smell or taste.
On arrival 
Hand-washing and sanitising facilities are available.
Mask wearing and distancing
If you would prefer to wear a face mask, these will be available although this is not mandatory
Additional safety measures
The Board Room and coffee lounge areas are well ventilated
Sanitation stations are available throughout the buildin