In House Training, Research and Consultancy
Sharing our unrivalled expertise
The training team
In-house training modules
In-house training costs
In-house training price guide
Make an enquiry
Our bespoke research-led consultancy service
Current projects
Previous projects
Unipol Student Homes is at the cutting edge of developments in the student housing sector. We offer In House Training, Research and Consultancy services.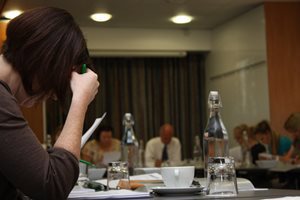 In House Training
Unipol training offers an in-house training facility for HE, FE and private sector housing suppliers allowing you to train a number of staff at a venue of your choice without the addition of travel costs.
This service enables users to select their own training module from a number of suggested modules covering general trends, using the private sector, health and safety and a variety of housing management techniques.
All training is on specific themes, customer focussed and is designed to inform and motivate staff. Our training involves participation from delegates and some involve group work and role play. Many use in house training as part of their team building so that staff who rarely meet each other can do so in a focussed and informative event.
The modules can be geared to your specific needs and are, of course, confidential to your own staff.
Different modules play to different levels and strengths of staff, with some courses for newly arrived staff and others for experienced or senior staff meaning our training gives you an opportunity to take an overview, or a sideways look, at your existing systems and views.
This in-house training system compliments Unipol's existing central training programme which concentrates on new issues and larger events where, networking with other institutions is important.
The Training Team
Paddy Jackman has been involved in the Higher Education Sector for around 25 years having had senior positions at 3 universities where the roles included managing and developing their accommodation portfolios.  He was more recently Director of University Partnerships for Campus Living Villages before joining Unipol in 2023.  He is passionate about the role that an accommodation experience can play in enabling all students to get the most from their time at university.
Nicola Brown oversees Unipol's Housing Hub operations and co-ordinates house-hunting activity in Leeds and Bradford. Nicola ensures that the Unipol websites have a comprehensive choice of accommodation in each location and works with universities and student unions to ensure that students get the information they need to make a good housing choice.
Simon Kemp has worked at Unipol since 2002. Previously he administered Unipol's accreditation schemes in Leeds and Bradford, and now runs the two ANUK/Unipol Codes for Large Student Developments which were launched in 2005.
Victoria Tolmie-Loverseed is the Assistant Chief Executive - Standards for Unipol overseeing Unipol's legal work with leasing, communication with students and Unipol accreditation schemes. Victoria was previously the Tenancy Support Officer for Unipol, supporting over 2000 student residents and has been a Housing Manager for Unipol, dealing with tenant disputes using mediation techniques. She was also the Student Interface Manager co-ordinating communications with students.  Before coming to Unipol, Victoria was the Welfare Officer at Leeds University Union.
Tony Vyse Tony is the Assistant Chief Executive - Developments and joined Unipol in January 2013 as Senior Housing Management Officer - Technical Services having worked within the building and construction industry for 18 years. In 2015 Tony became the Development Manager for Unipol assessing and enhancing Unipol's property portfolio. Providing support to the housing management team and assist them with technical advice, monitoring and quality assurance.
The following members are external speakers and may incur a higher cost:
Hilary Crook is a Solicitor and acts for a number of universities and private landlords and is recognised as a leader in her field. She is regularly consulted by representative bodies in the HE sector and advises the largest of the tenancy deposit protection schemes. An experienced trainer who informs, stimulates and occasionally entertains.
John Martin is a Barrister has wide experience of litigation on disrepair, harassment and illegal eviction, housing rights and the right to education, including actions in further and higher education.  John is also Chair of the ANUK Tribunal for the Codes of Practice for Larger Student Developments.
Philip Moxon is a qualified Environmental Health Officer with over 30 years experience as a housing professional. Philip was selected by Warwick University to be a national trainer on the Housing Health and Safety Rating System together with statutory enforcement and has given training courses for Unipol since 1988
In House Training Modules
The following modules are available at the standard cost of Unipol in house training
Health & Safety
Gas – keeping records, making inspections and dealing with problems
Fire – fire safety principles in student accommodation, the LACoRS guidance and tenant behaviour
Electric – the NICEIC system, certification and periodic inspections
Inspecting Houses and Risk Assessing Your Portfolio
HHSRS system explained – an introduction to the system and how to use it as a tool to improve safety in your accommodation
Inspecting Student Houses – what to look for, how to measure risk and what makes a good student house
Risk assessments in student housing – knowing the risks, assessing the risks and what to do next
Using the Codes of Standards – understanding the code and making it a tool for improving your accommodation practices
RRO – Fire Safety
Tenant Welfare
Welcoming and arrivals – making a good first impression is critical, but can also set the tone for your accommodation for the year ahead
Disputes/mediation – exploring new methods to managing tenant conflict and
Discipline – when to act, how to act and knowing the potential limitations of discipline
Wardens – what should the role of your wardens be and how does their relationship with the institution work
Legal
Under 18s – a practical guide to accommodating students under the age of 18
Home Stay – an introduction to expanding the accommodation choice on offer to accommodate all students
Mental Health – spotting the signs, knowing how to intervene and supporting your students
The Student Accommodation Model – a guide to the economics and structure of the student accommodation market
Special Modules
Specialist modules can be developed to fit your own exact needs. Simply get in touch with us with what you are interested in and we will do our best to help.
In House Training Costs
Where additional specialist input is required we have a network of specialist trainers who can be used for an additional fee which we would be happy to discuss. All trainers have hands on experience of student housing, development, management, standards, the legislative framework and health and safety routines. Please bear in mind that legal training is based on daily charge out rates from specialist solicitors within the area of student accommodation and will always be more costly than other training.
All of our prices include;
Delegate pack for each delegate (subject to numbers being provided)
Speaker fees
Conference staff to service your event
AV equipment
You will be required to arrange;
venue (either provided by the user or bought in externally)
on site catering requirements (Unipol Training requires a lunch for networking/discussion and regular supplies of tea and coffee)
travel or overnight stays for trainers (where necessary and with prior agreement)
projector screen
Flipchart and pens
In House Training Price Guide 
This table is intended as a guide, for exact prices please contact Unipol 0113 205 3404. Some modules can be delivered online, and this would reduce the fee payable.
| | | | | | |
| --- | --- | --- | --- | --- | --- |
| Delegates / Location | 10 | 15 | 20 | 25 | 30 |
| Leeds | £1,500 | £1,750 | £2,000 | £2,150 | £2,300 |
| Nationwide* | £1,900 | £2,250 | £2,500 | £2,650 | £2,800 |
* travel and accommodation costs apply in addition to training costs
Make an Enquiry
For further information about in house training or to make an enquiry please contact
0113 205 3404
Consultancy and Research
As a not-for-profit we can provide research and consultancy on local markets, accommodation portfolios, and a range of related issues that impact on student housing, which is both robust and unhindered by commercial interests.
As well as conducting our own research Unipol also offers bespoke research led consultancy for institutions or organisations who wish to know more in the areas of:
Accommodation management
Portfolio development
Localised market conditions
Tenant satisfaction/Opinion
Unipol has a team of consultants chosen for their wealth of experience and breadth of expertise, allowing us to match clients with consultants who are most knowledgeable in the given field of research.
Current Projects
The Ten Cities Rent Report 2023
Previous Projects
Unipol/NUS Accommodation Costs Survey 2021 (Published December 2021)
Unipol/NUS Accommodation Costs Survey 2018 (Published December 2018)
Unipol/NUS Accommodation Costs Survey 2014 - 2016 (Published December 2015)
Assessment of Student Residence and Housing Market Conditions in Bradford (2014)
Assessment of Student Residence and Housing Market Conditions in Nottingham (October 2013)
NUS/Unipol Accommodation Costs Survey (October 2012)
Assessment of Housing Market Conditions and Demand Trends in Inner North West Leeds (August 2012)
Please email or phone on 0113 205 3412 Unipol to discuss your research or consultancy requirements.